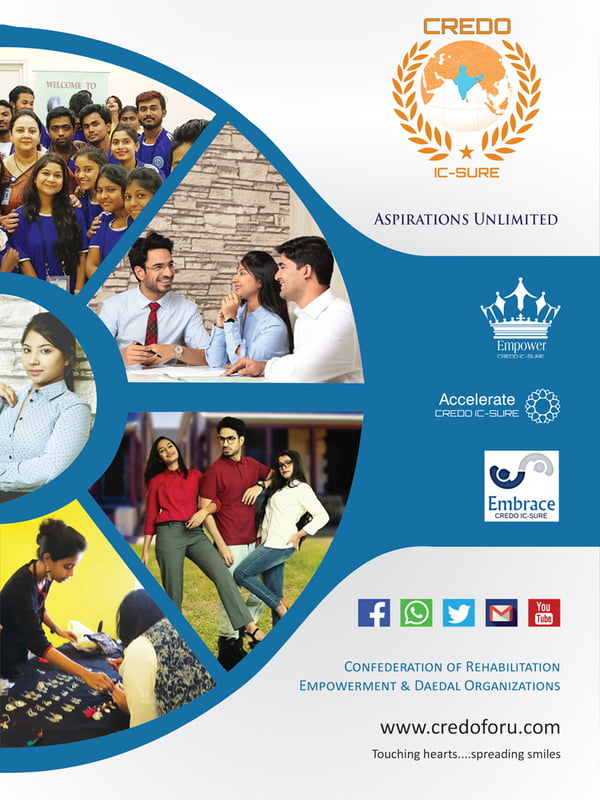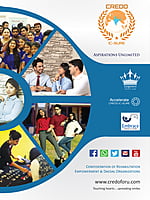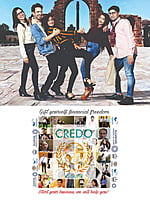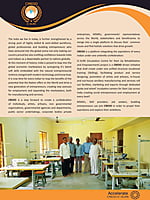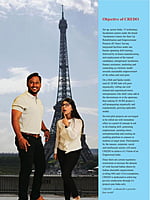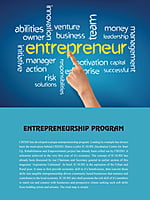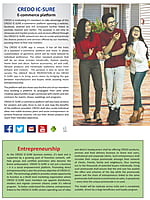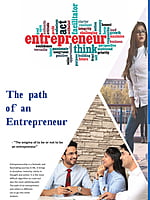 VISION MAGAZINE : ROAD MAP FOR AN ENTREPRENEUR
Non-returnable
BECOME AN ENTREPRENUER WITH CREDO ICSURE
VISION MAGAZINE : ROAD MAP FOR AN ENTREPRENUER
PREFACE TO THE CREDO ICSURE MAGAZINE ON STRATEGIC EMPOWERMENT
CREDO ICSURE is more than just a name. It is a mass empowerment movement that acts as a bridge to unite rural and urban population under a uniform umbrella of strategic skill based training leading up to micro enterprises and employment.
CREDO in Latin means 'I believe', an abbreviation for Confederation of Rehabilitation, Empowerment and Daedal Organizations registered under CREDO CHARITABLE TRUST. IC-SURE is the dream project of CREDO -Incubation Centre for Start Ups, Rehabilitation and Empowerment.
CREDO ICSURE, has developed a strategic intervention that can translate into economic opportunities for all where Students, House wives, Traders, Professionals, Entrepreneurs, the Retired and the Service providers can tune in to get up-skilled as well as access a World of knowledge and trade opportunities. At the other hand, the skilled and the rural population can take advantage of the CREDO ICSURE backward integration model to uplink their products and services and access market opportunities.
CREDO ICSURE is a quality conscious, ethical and affordable platform where you can:
GET SKILLED using our online & offline training platforms

Access On-line Skill training,

Technology in Fashion, Garments, Graphics designing, Food & Hospitality,

Virtual Reality based skills like CNC Machining technology, Construction and Mining Equipment operation, Commercial and Passenger vehicle operations, Life saving equipment operations,

BECOME AN ENTREPRENUER using our business incubation centre for:

Fashion, Garments, Designing,

Food & Beverage

Hospitality & Retail

Direct marketing using our promo code to generate revenue from your neighborhood & network

START SELLING using our online e-commerce platform

Register your products and start selling

Let us take care of the logistics and payment gateway

Register your skills as a service provider and let us find a client for you
The entire vision of the CREDO ICSURE program you will find in this informative magazine style VISION document. So why wait any longer? Subscribe today and Enjoy!
What you need to do:
Order the E-Magazine online,

Register your mobile number and email,

Once the payment* is cleared, we shall send you a link to access the VISION document.

The access shall be valid for 30-days
Come, join the CREDO ICSURE movement for an ATMANIRBHAR BHARAT!
*If the product offered is for free, do not worry, we shall not charge you. Just buy for free and we shall forward the link to you.
GLOSSARY OF CONTENT:
Pg. No. 04: FROM THE EDITOR'S DESK
Pg. No.06: SERVICE IS SALVATION- SPREAD HOPE
Pg. No.10: MESSEGE FROM ACHARYA SHAILESH TIWARI
Pg. No.12: FROM THE INSPIRATOR & CHAIRPERSON'S DESK
Pg. No.16: FROM THE PRINCIPAL INSPIRATOR & SECRETARY GENERAL
Pg. No.20: WHY CREDO?
Pg. No.21: OBJECTIVE OF CREDO
Pg. No.23: CREDO ENTREPRENEURSHIP & EMPLOYMENT GENERATION PROGRAM
Pg. No.24: WHAT IS EMPOWERMENT?
Pg. No.25: ENTREPRENEURSHIP PROGRAM
Pg. No.30: INTRODUCTION TO CREDO IC-SURE PROJECT FOCUS
Pg. No.32: INDIA RISING
Pg. No.33: INTEGRITY & TRANSPARENCY
Pg. No.34: CREDO EXPERIENCE
Pg. No.36: THE PATH OF AN ENTREPRENEUR
Pg. No.39: WRITE YOUR BUSINESS PLAN & RESEARCH WELL
Pg. No.45: CREDO KITCHEN & RETAIL FOOD SERVICE
Pg. No.48: PROJECTS UNDERTAKEN
Pg. No.51: IC-SURE CATALOG
Pg. No.56: CREDO PHILOSOPHY
Pg. No.57: ACCLERATE CREDO IC-SURE
Pg. No.62: ACKNOWLEDGEMENT