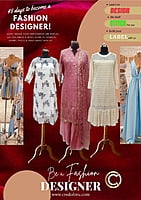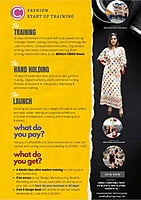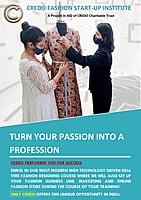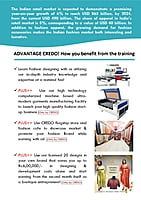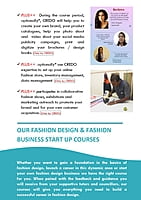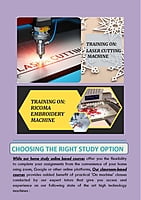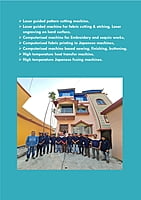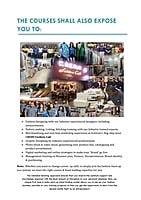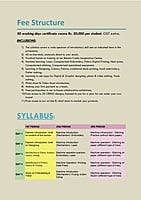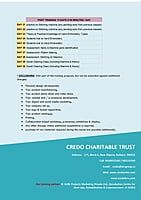 Practical Training on Fashion Designing
Rs.19,990.00
Rs.99,990.00
Be a
Fashion Startup
.
Join the course with hands on marketing training, product development, linkage.
WHAT YOU GET IN 45 DAYS FLAT!
- LEARN Introduction to Fashion Design,
- DEVELOP your Fashion Catalogue,
- MANUFACTURE a Fashion Product,
- LAUNCH your Fashion Start Up online,
- RETAIL your products,
- Hold EXHIBITIONS,
- Learn DIGITAL marketing as your promo tool,
- EARN at your will.
BONUS (For early bookings only) :
- Get 30 free CREDO designs and product catalogue in your name ready for launch as a gift from us ABSULUTELY FREE of royalties and licensing fees!
YOUR CONCERNS:
- Are you worried about your carrier prospects?
- Do high cost of Fashion Designing courses offered by others in the market charging several Lacs scare you?
- Are you already a Fashion Designer? Do you feel that in spite of spending several lacs to become a Fashion Designer you do not have the product, training and infrastructure to live your dreams and launch your brand?
- Do questions like: Where to manufacture, How to manufacture, Where to sell and how to promote give you nightmares?
- Worried about raising capital?
ALL QUESTIONS ANSWERED AND SOLVED:
1. CREDO has a modern Fashion Designing, Training with Product development and Manufacturing infrastructure at Behala, Kolkata. The Fashion start up course will empower you not only through training but will, optionally, also manufacture your product line and license you CREDO Designs for use under your brands absolutely free of royalty.
2. CREDO also has it's online store (<a href="http://www.credoforu.com/">www.credoforu.com</a>) where you will get to showcase your product line.
3. CREDO Fashion Café, the retail store at New Alipore, is where you can display your products, call for exhibitions and entertain your clients, family and friends at the café.
4. CREDO social media presence will help you reach out to a large audience through shared digital marketing.
BENEFITS:
- Thus at CREDO you get to design, manufacture, retail, exhibit and sell online using shared infrastructure with us.
- Community based shared digital and physical marketing with your fellow trainees will ensure a large audience spread.
- Participating in exhibitions become a joy when the costs are shared with your fellow trainees.
- Complementary CREDO designs and products range licensed to you for a year shall expand your product portfolio and you shall earn a profit share on every sales achieved.
CREDO FASHION START UP COURSE : The only course in the country that converts fashion enthusiasts into Fashion Entrepreneurs with complete hand holding!
JOIN US TODAY!